Students Association Activities
AWARNESS PROGRAM ON "ANTI RAGGING AND DRUG"
VENUE: Viswaswarayya Auditorium
RESOURCE PERSON: Mrs N.SUDHA
DISIGNATION: Secretary Cum Senior Civil Service,District Legal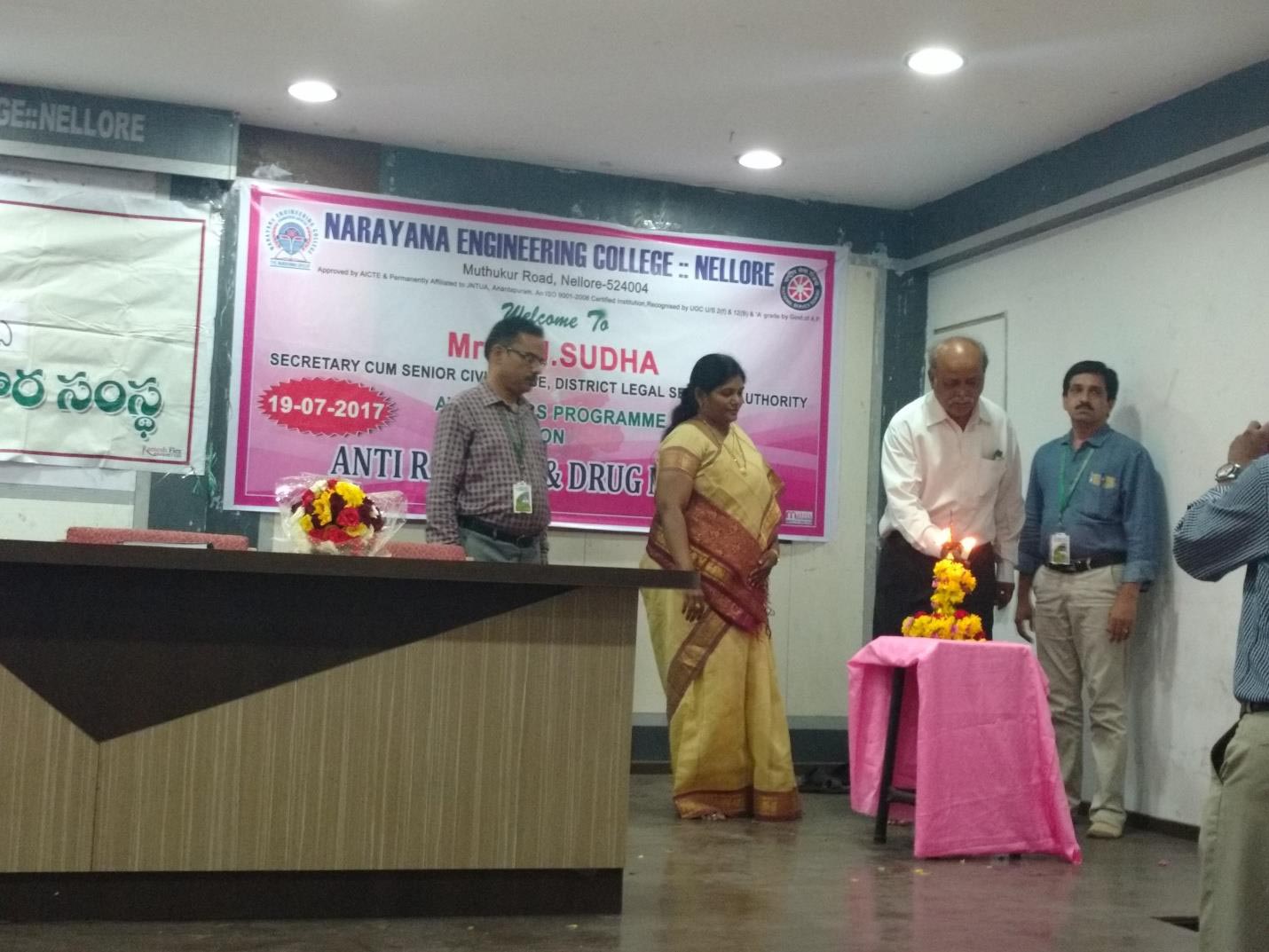 Department of Mechanical Engineering had organized "An industrial applications of Taguchi method by using MINITAB "to 3rd and 4th year students on 05/08/2017 by Mr. K. Siva kumar , Mr. T. Rajeswara rao & Mr. B. Nagaraj.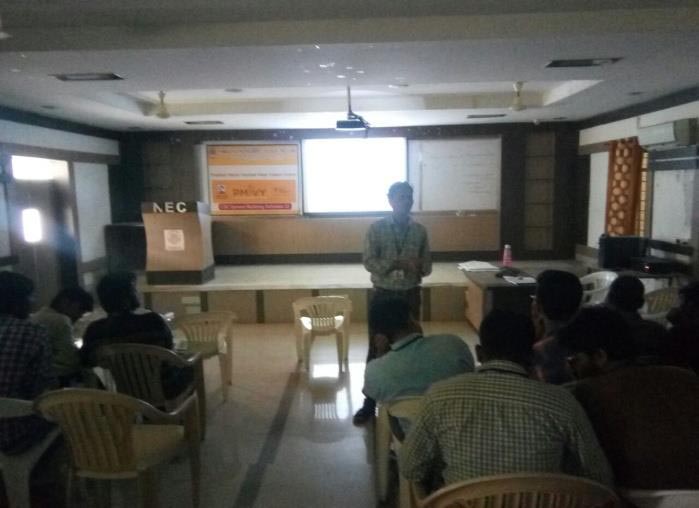 (SHAR) students with three faculty members (Mr. M Chandrasekhar and Mr. K Ramesh and Mr. T Rajeshwar Rao) went on an industrial visit to the Satish Dhawan Space Centre (SDSC) on 08-08-17. We all assembled at the college at 6:00a.m. and left the college in a bus. We reached the SHAR at 10 o'clock. An engineer-in-charge of SHAR received us at the entrance and gave a brief introduction about shar in Auditorium with the help of 30 minutes video,later we assembled at MACHINE CONTROL CENTER(MCC) and It is part of the ground segment of spacecraft operations.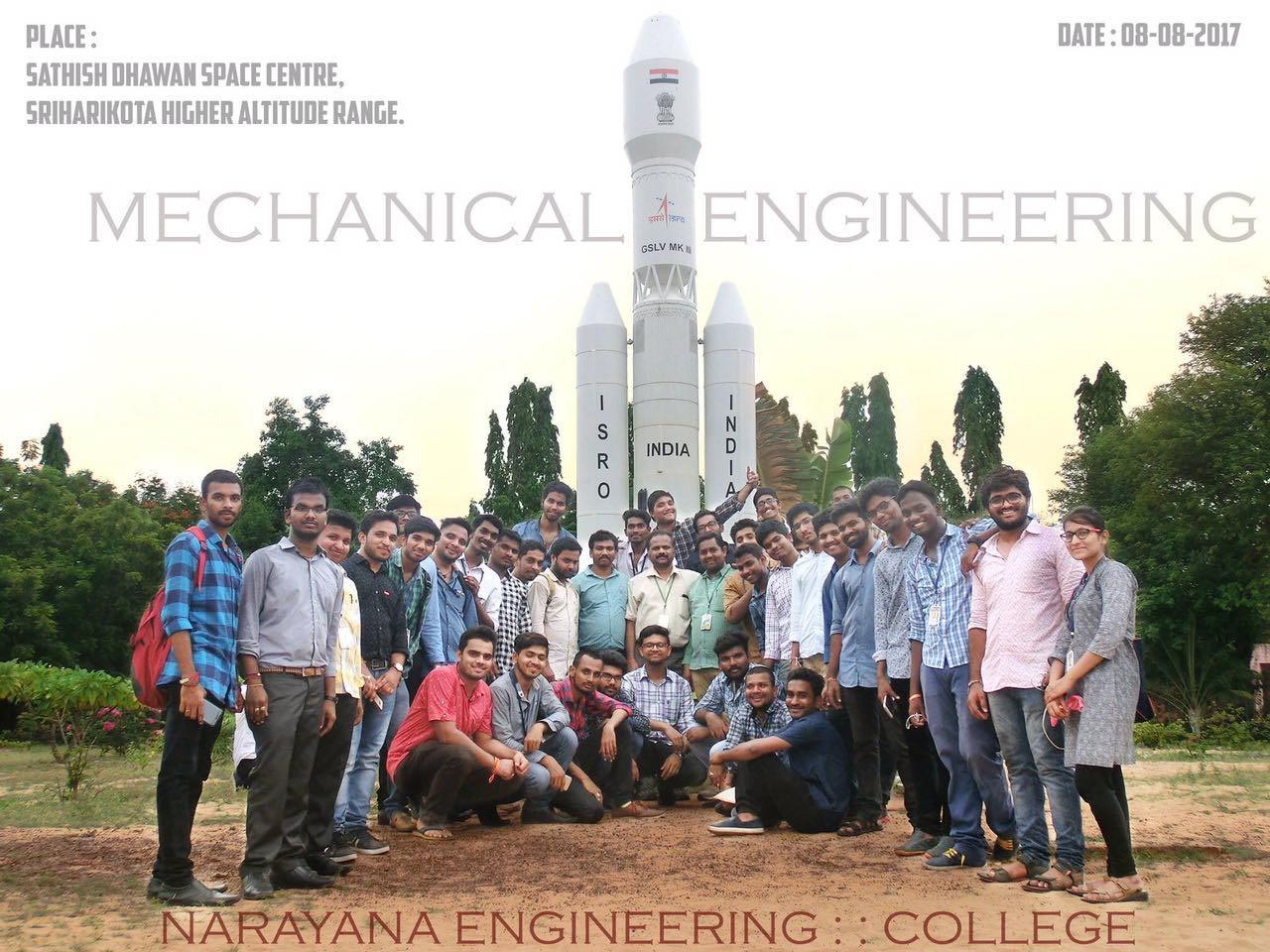 Department of Mechanical Engineering is Participated "INTERNATIONAL YOUTH DAY 2K RUN" in A.C.Subba Reddy Stadium Nellore.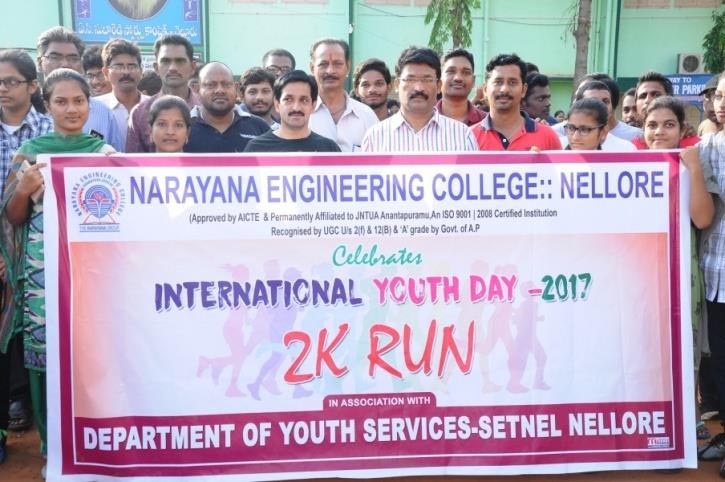 Department of Mechanical Engineering is conducted the "SWACHH PAKHWADA RALLIE" to create awareness to swachhta with collaboration of NECN - NSS Unit in T.P.GUDUR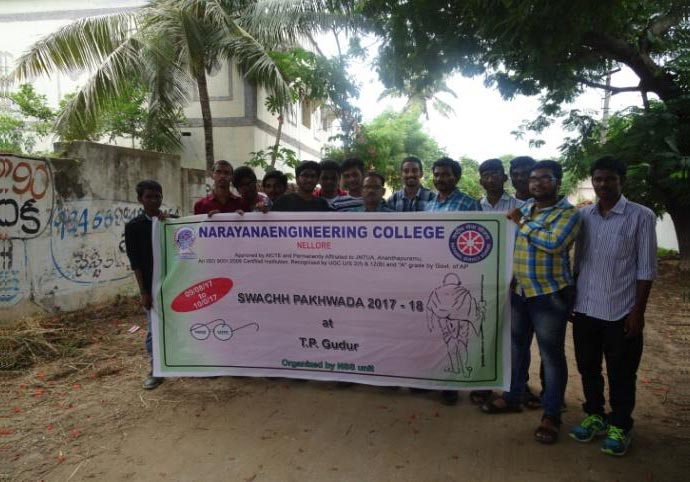 Indo National Limited with its corporate office at Chennai, is the first Indian dry battery company to have been certified with ISO 9001 and ISO 14001 international standards and has the ISI mark of quality on all its batteries. Nippo has 35 depots across India and has excellent distribution network with over 4000 stockiest pan India It is very helpful to the students to get the practical knowledge on product lay out and core working environment.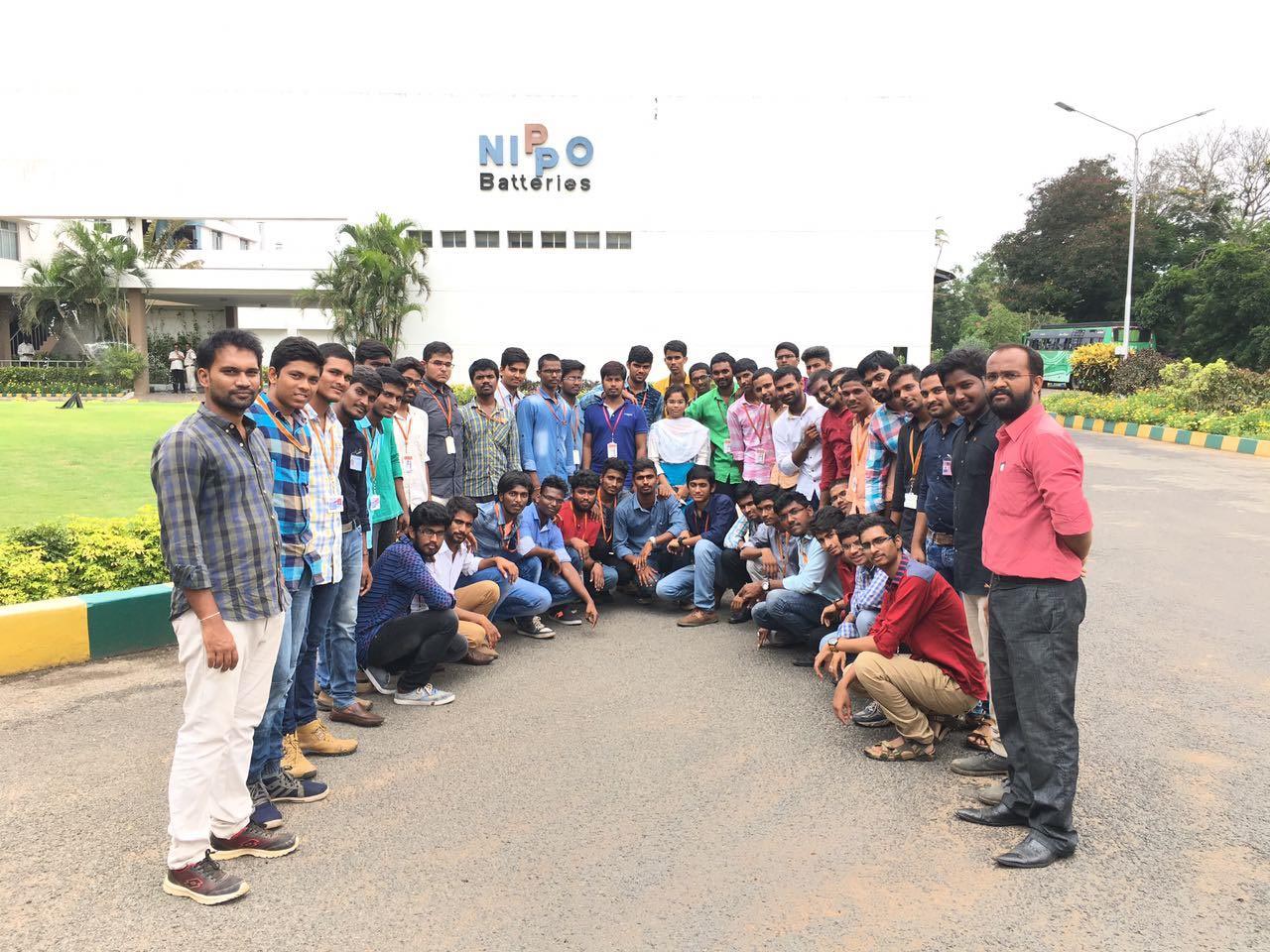 It is happy to announce that Mechanical Engineering Department celebrated the "TEACHERS DAY CELEBRATIONS" in James Watt Seminar Hall.
EVENT: "PLANNING & PREPARATION TIPS FOR INDIAN ENGINEERING SERVICES FOR MECHANICAL STUDENTS"
Resource person: D.V LAKSHMI KANTH (ALUMNI 2017)
Studying : PREPARING FOR GROUPS
Target Audience: II B.TECH STUDENTS
EVENT: An awareness program on opportunities of higher studies in abroad (MBA,MS & visa processing)
Resource person: G VIGNESH
Studying : MS IN UNIVERSITY OF GLASGOW,UK
Target audience: II,III &IV B.TECH STUDENTS INTRESTED FOR HIGHER STUDIES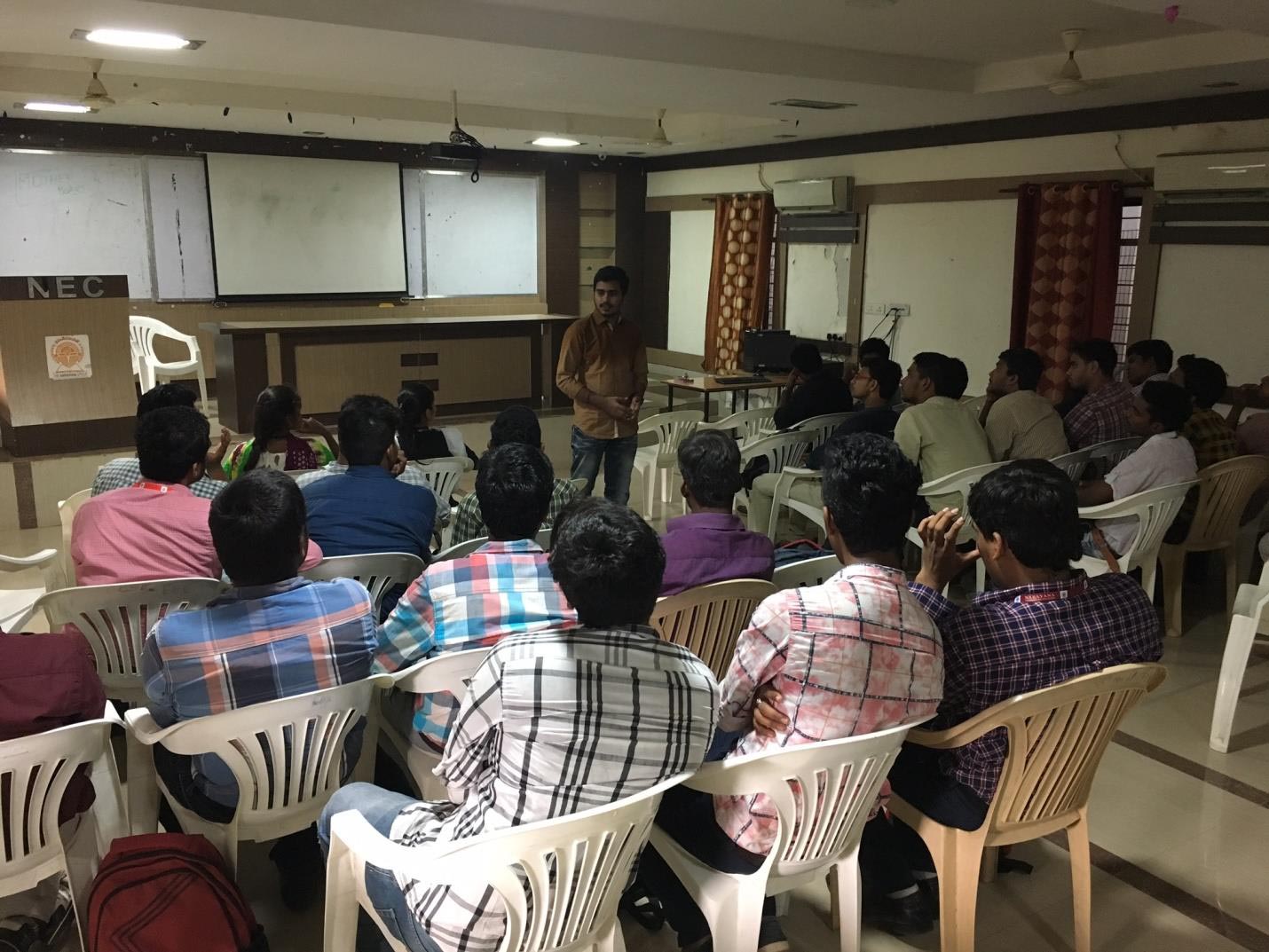 Title: Swatch Bharath Program
Event type: Extension Activity
Venue: Sarvodaya Government College to kasturbha Bhavan, Nellore
Number of Participants: On the occasion of Gandhi Jayanthi, the students of ME Department organized a Swachch Bharat program under the banner of Association of Mechanical Engineers, ME Department. Faculty members and students of ME department participated in the program to spread awareness of keeping the surroundings clean and green. The event was well received by the students of Sarvodaya Government College and inspired them to keeping the surroundings clean.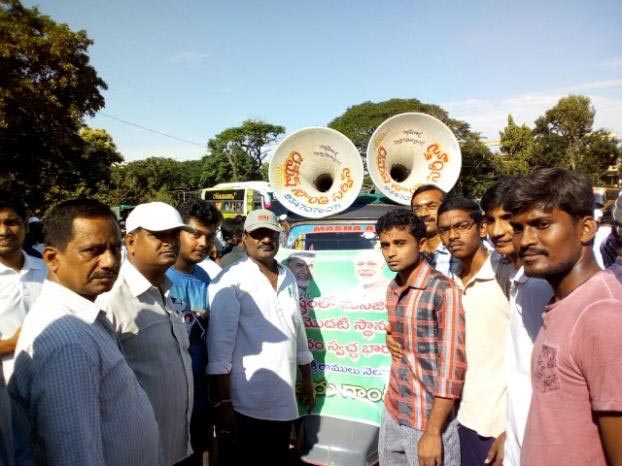 Title: World Space Week Rally
Event type: Rally
Venue: VRC Circle to Atmakuru Bustand, Nellore
Number of Participants: 20 students and 4 Faculty members
A Rally was organized by Narayana Engineering College as part of the World Space Week event from 7:30 am to 8:30 am on 7th October 2017. The Rally was aimed to bring awareness to the general populace about Indian Space Research and related opportunities. Students and Faculty members of the Department of Mechanical Engineering actively participated in the Rally to benefit the public. Students and Faculty Members of Narayana Engineering college participating in the Rally A model exhibited along the roadside for Public View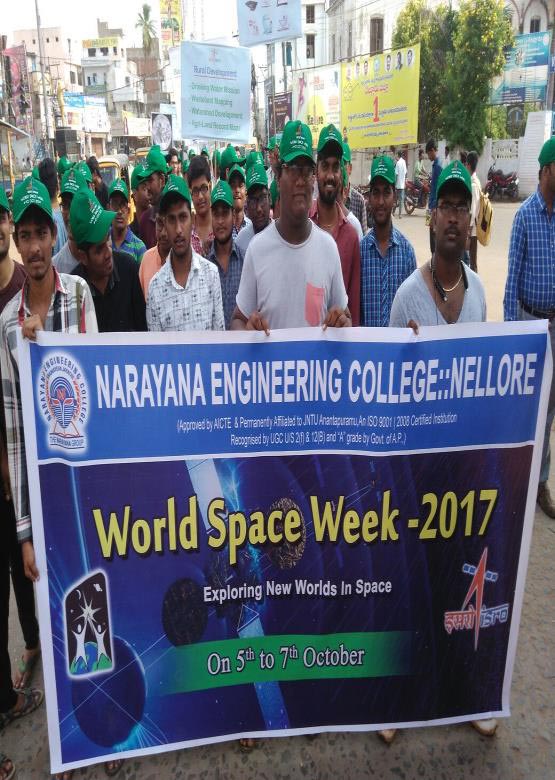 Title: "SAMYANTRANA-2K17"
Event type: " National Level Technical Symposium"
Resource Person: Sri. D. Sivakumar, ADE, APGENCO, Nelatur, Nellore as Chief Guest. Sri. S. K. Apsar, Head, Operations, TVS Training Services, Sri City, Tada
Venue: Visvesvaraya Auditorium - C Block
Number of Participants: 282
Guests and the Officials on the dais on Inauguration Lightning the Lamp to enlighten the wisdom Dr.A.V.S.Prasad, Director, delivering the Inaugural speech Dr.G.Sreenivasulu Reddy, Principal delivering Inaugural speech The Symposium was organized to inculcate technical competence among the mechanical engineering students Advances in Mechanical Engineering technical gathering witnessed 282 students which includes 135 students from 7 engineering colleges participated in various technical events such as Paper presentation, Design Software Project Expo, Junk Yard Wars, Poster Presentation and Spot events Inauguration and Chief Guest Address.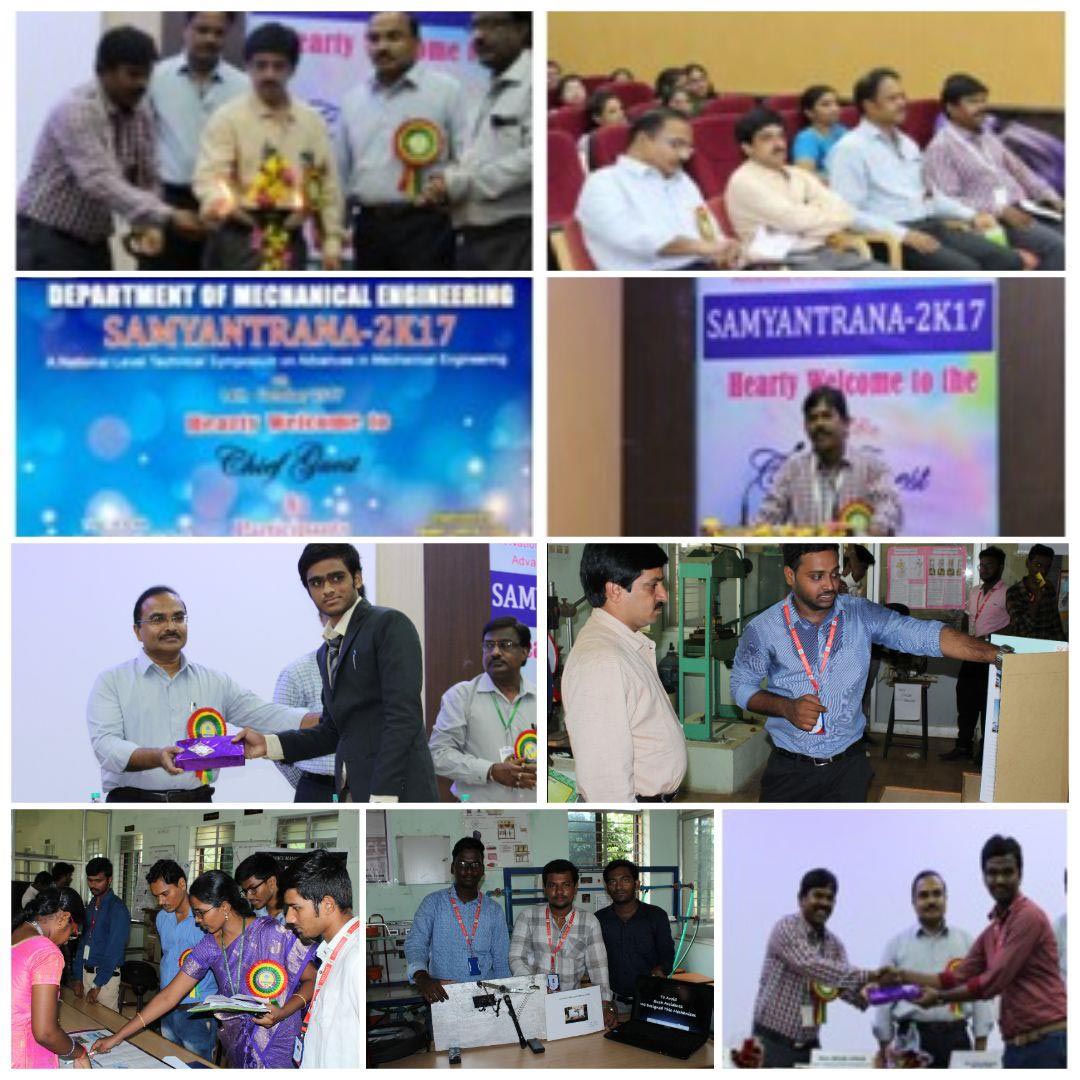 INDUSTRIAL VISIT ON "VIJAYA DAIRY NELLORE
Target audience: II- B.TECH STUDENTS
Date: 17-02-2018
Industry visits sensitize students to the practical challenges that organizations face in the business world. Industrial visits also give greater clarity about various management concepts for students as they can practically see how these concepts are put into action. Visits to manufacturing firms are useful for students. to understand the nuances and realities of the shopfloor, which in itself is a rare exposure. By visiting the shop floor they get to understand the risky conditions in which workers work, the people management challenges involved in managing workers apart from getting hands-on technical knowledge.
One Week Certificated Course ON "ANSYS Space Claim 18.0" By Yucan Technologies Pvt Ltd
Resource Person :Sri. G. Raja Mahendra
Designation: Sr. Simulation Engineer
Target audience: III & FINAL- B.TECH STUDENTS
Date: From 16-02-2018 to 21-02-2018
If you've ever seen a rocket launch, flown on an airplane, driven a car, used a computer, touched a mobile device, crossed a bridge, or put on wearable technology, chances are you've used a product where ANSYS software played a critical role in its creation. ANSYS is the global leader in engineering simulation. We help the world's most innovative companies deliver radically better products to their customers. By offering the best and broadest portfolio of engineering simulation software, we help them solve the most complex design challenges and engineer products limited only by imagination. Engineering simulation is our sole focus. For more than 45 years, we have consistently advanced this technology to meet evolving customer needs. ANSYS develops, markets and supports engineering simulation software used to predict how product designs will behave in real-world environments.
We continually advance simulation solutions by
• Developing or acquiring the very best technologies
• Integrating them into a unified simulation platform capable of complex, multiphysics solutions
• Providing system services, including high-performance computing (HPC) and Cloud solutions, to manage simulation processes and data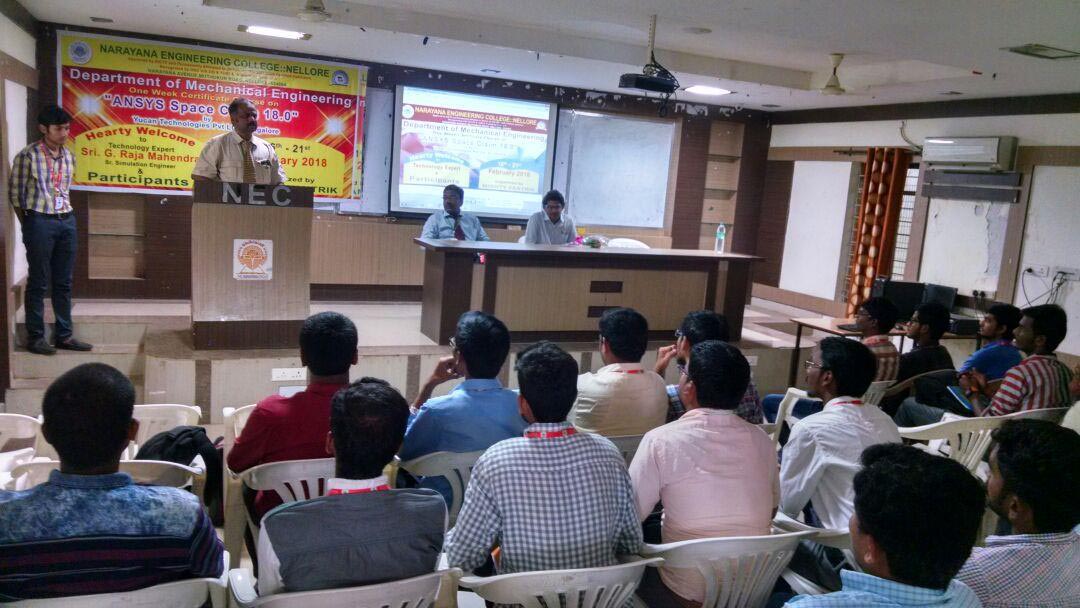 Carrier opportunities in Government sector and Higher studies through GATE
Resource person: Mr. M.KiranKumar
COMPANY: Vani Institute Hyderabad
Target audience: II&III B.TECH STUDENTS
Date:-23-02-2018
The biggest question that one must ask from himself before the preparation of any exam is that why one should appear for the exam as that reason itself is the motivation for the exam. GATE is conducted by Ministry of Human Resource Development (MHRD) and it tests the basic understanding of undergraduate subjects. GATE score is considered as a mandatory requirement for entrance into post-graduate programs in different IITs and NITs. The process for recruitment for M.Tech programs involves qualifying GATE exam and clearing the cut-off for the respective college and then undergoing an interview stage for final admission. GATE is jointly conducted by 7 IITs and IISc Bangalore and these institutes are responsible for administrative responsibilities of the exam and not directly concerned with preparing the question paper. This exam is one the most prestigious exam in India and not only because it is conducted by IITs but also because of the plethora of opportunities available after GATE. In this article I wish to let you all know in brief about the opportunities available after GATE. There are certain research positions available through GATE in Bhabha Atomic Research Center (BARC) though GATE as well as BARC conducts its own examination for recruitment. Also, industries like ISRO conduct their own exams on similar pattern as GATE.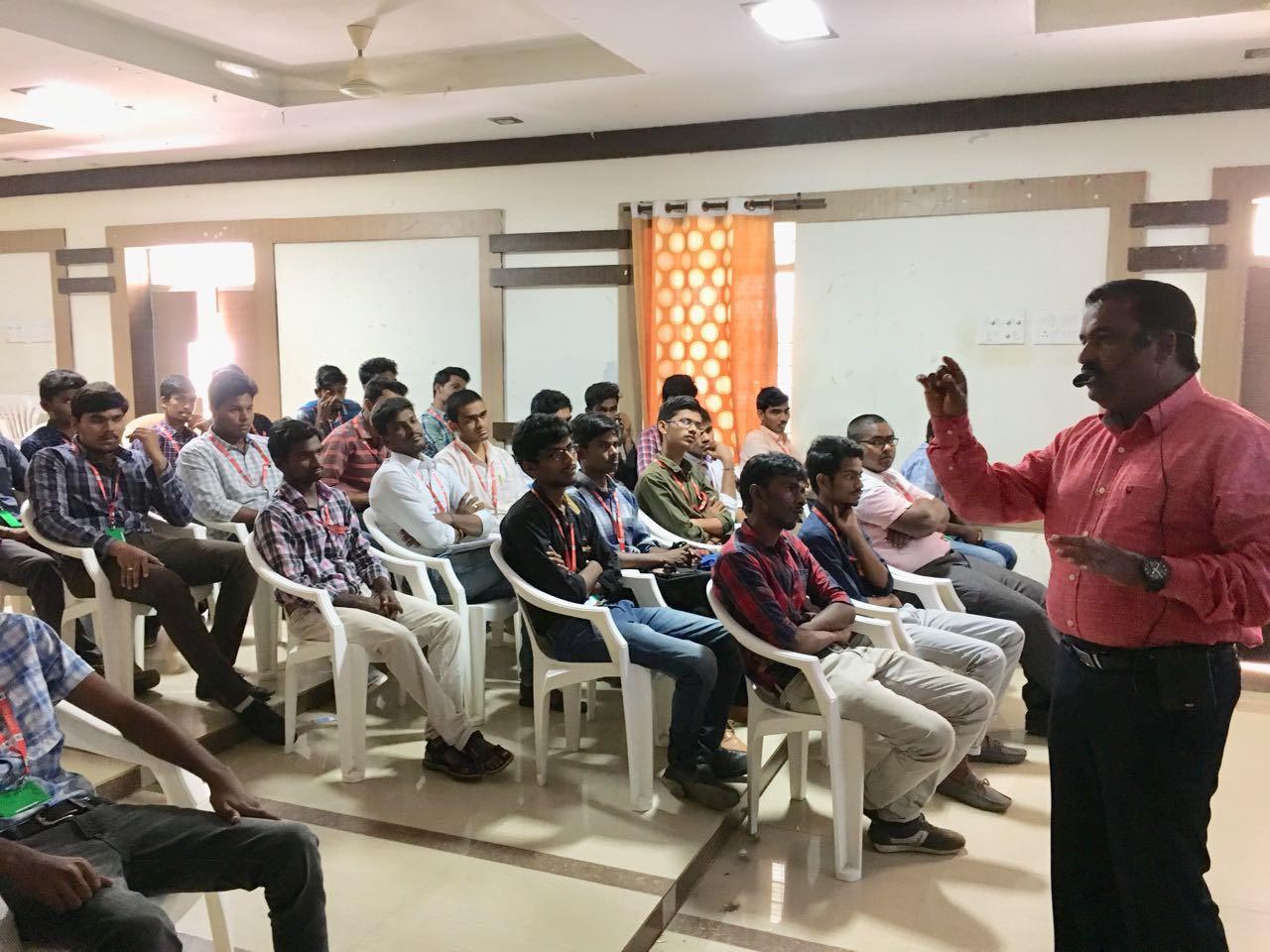 Career Guidance,Motivation and job opportunities in INDIA ARMY
Resource person: Mr. B. Mohan kumar & Dr.K.Narasimha Reddy
Target audience: STUDENTS OF II B.TECH MECH AND III B.TECH CIVIL
Date:-24-02-2018 Army is one of the most noble profession. Hope you have made your mind to join army and not been forced by anybody. Also if you had mentioned your qualification, it would be easy to guide you, because one can join army anytime with any qualification i.e. after 10th, 12th, diploma, degree, etc. "This world rests on the arms of heroes like a son on those of his sire. He, therefore, that is a hero deserves respect under every circumstance. There is nothing higher in the three worlds than heroism. The hero protects and cherishes all, and things depend upon the hero". "Soldiers are men...most apt for all manner of services and best able to support and endure the infinite toils and continual hazards of war" "People sleep peacefully in their beds at night only because our soldiers stand ready to do violence on their behalf." This is what Indian Army is all about. "Supreme Heroism" and "Unconditional Love" for India defines our Indian Army. Our soldiers are meant to be gallant, fierce and ever-ready to sacrifice their lives to protect our Mother India.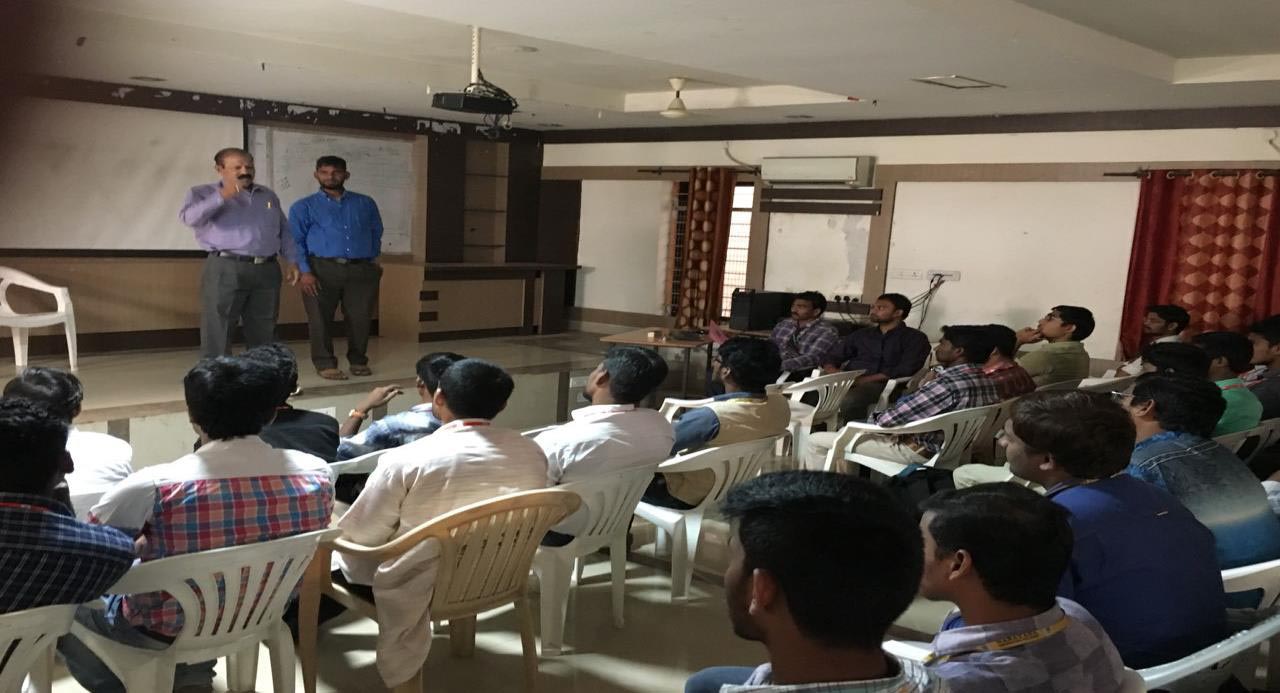 Career Guidance
Resource person: Mr. V.S.Goutham Reddy
Designation: Research Scholar, IITM, Chennai & Technical Expert, GATE MASTERS ACADEMY, Hyderabad
Target audience: IV&III B.Tech ME STUDENTS
Date:-28-02-2018
National Science Day
First year Mechanical Engineering students Participated in National Science Day Organized By NEC -Nellore.
Date:28-02-2018