NSS/YRC, Other Extracurricular Activities
1) SWACH PAKHWADA RALLIE
Department Of Mechanical Engineering Is Participated In The "SWACHH PAKHWADA RALLIE" To Create Awareness To Swachhta With Collaboration Of NECN - NSS Unit In T.P.GUDUR At 14/08/2017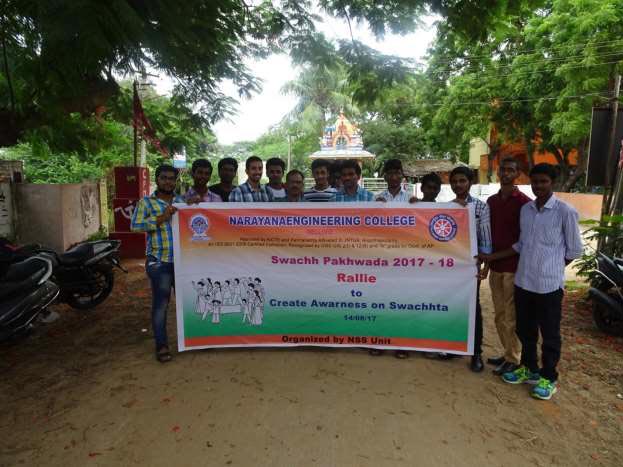 NSS ACTIVITY
On the occasion of Gandhi Jayanthi, the students of ME Department organized a Swachch Bharat program under the banner of Association of Mechanical Engineers, ME Department. Faculty members and students of ME department participated in the program to spread awareness of keeping the surroundings clean and green. The event was well received by the students of Sarvodaya Government College and inspired them to keeping the surroundings clean. organized by "Government of Andhra Pradesh"association with NSS Unit Narayana Engineering College, Nellore.Date:02-10-2017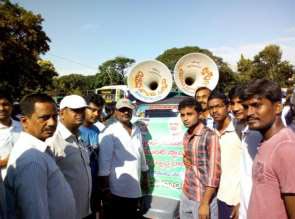 NSS Lifestyle Management Programme
Department of Mechanical Engineering participated in the "NSS Lifestyle Management Programme" to create awareness on
. Making education more relevant to the present situation to meet the felt needs of the community and supplement the education of the university/college students by bringing them face to face with the rural situation.
. Encouraging students and non – students to work together along with the adults in rural areas. . Encouraging youth to participate enthusiastically in the process of national development and promote national integration through corporate living and cooperative action.
While undertaking these activities, each NSS unit should envisage its programs/activities aimed at instilling discipline, building character, promotion of physical fitness and development of culture.