Principal's Profile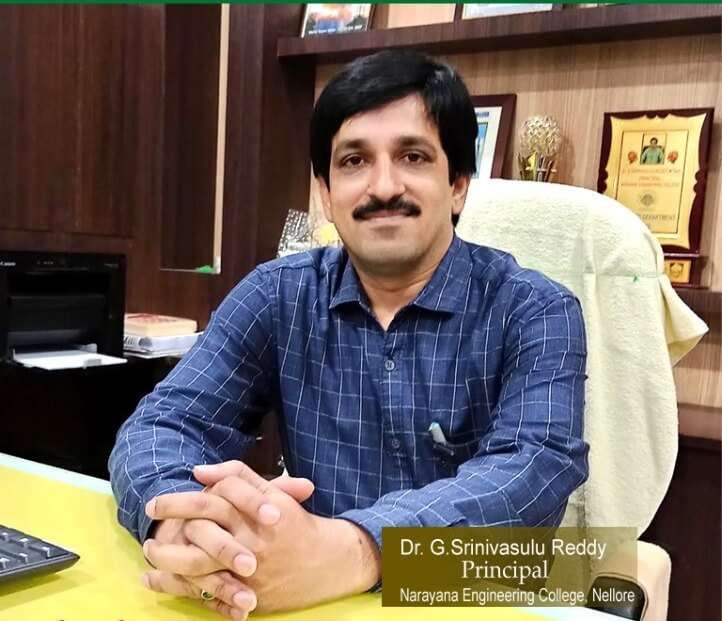 Dr. G. Srinivasulu Reddy, M.Tech,Ph.D Principal
Dr. G. Srinivasulu Reddy, M.Tech (Electrical Engineering) from S.V.U College of Engineering, Tirupathi and Ph.D from JNTU Hyderabad, is a professor in Electrical and Electronics Engineering. He has the professional experience of 21 years in academics and 17 years in administration at various and important cadres like vice-principal, Principal In-charge, HOD(EEE) and Dean(R&D).
Dr. G. Srinivasulu Reddy extended his knowledge by publishing 56 papers in various conferences and Journals. He has published 5 text books in Electrical Engineering. He reviewed 20 papers in reputed International Journals. He is enriched with practical knowledge by attending 23 Workshops / FDPs till now. He taught 21 separate courses, handled 8 separate labs, supervised establishment of 6 labs and guided 39 B.Tech Projects and 21 M.Tech Projects.
Dr. G. Srinivasulu Reddy is a life member of ISTE & IAENG and Member of IEEE and Robotic Society of India. He has acted as a convener for many symposiums, conferences, seminars and workshops. Besides he was the coordinator and advisor for many workshops, conferences and seminars. His sincerity and dedicated work make him admirable. Being an effective leader he leads the organization in right path.