Student Association
TRAINING CLASSES
As a part of Aptitude training classes arranged by civil department, III B.Tech Students on 05/08/2017 by Sai Krishna,NECG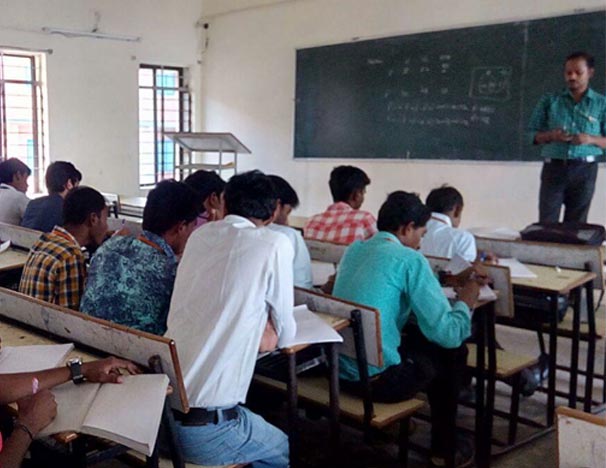 CAD LABORATORY TRAINING CLASSES WAS CONDUCTED BY CIVIL DEPSRTMENT FOR III & IV B.TECH STUDENTS ON 05/08/2017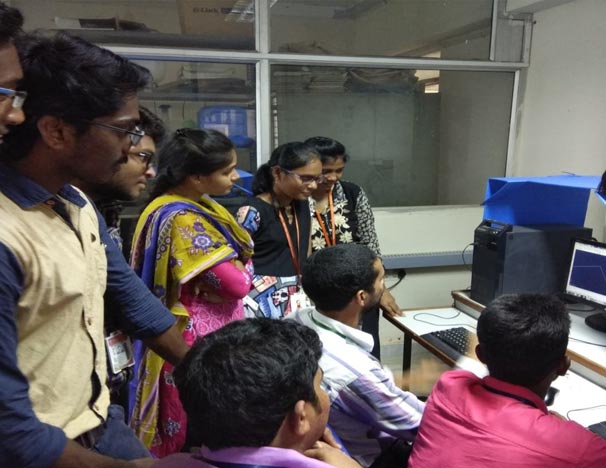 2K Run
On the Eve of "International Youth Day", Narayana Engineering College, Nellore organized an event "2K RUN" ("AC Subba Reddy Stadium, Nellore to KVR Petrol Bunk, Nellore") on 11-8-17 in association with Department of Youth services-SETNEL, Nellore. The Students and staff members of Civil department have participated in this event enthusiastically to express the "Role of Youth in the development of country".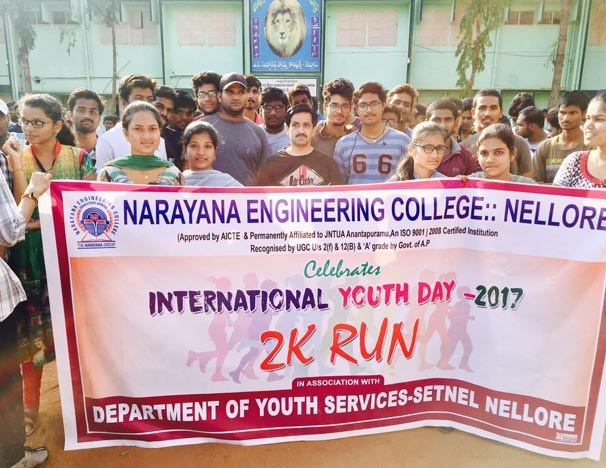 "SWACH Bharat Abhiyaan campaign in Railway station and Bus stand on 04/08/2017 in association with NSS Unit Narayana Engineering college, Nellore.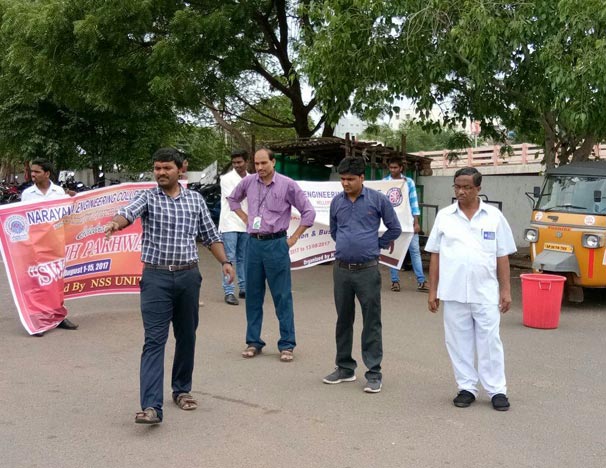 INDEPENDENCE DAY CELEBRATIONS
On the Eve of 71st Independence Day Celebrations , extracurricular activities were conducted. Students of Civil have received awards for their excellence in extracurricular and co-curricular activities.
CIVIL Department students stood as runners in the Basket ball conducted by the college on the eve of Independence Day 2017
CIVIL Department students stood as runners in the Kabbadi conducted by the college on the eve of Independence Day 2017.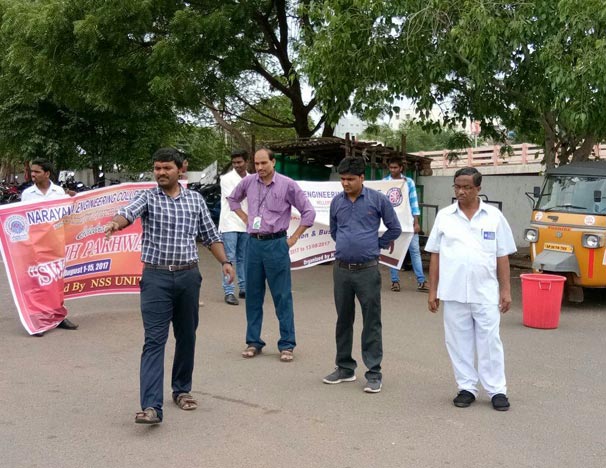 FRESHER'S DAY CELEBRATIONS
As a part of interaction II-Civil Students organised "Freshers Day" Celebrations on 20-8-2017 for the First year CIVIL students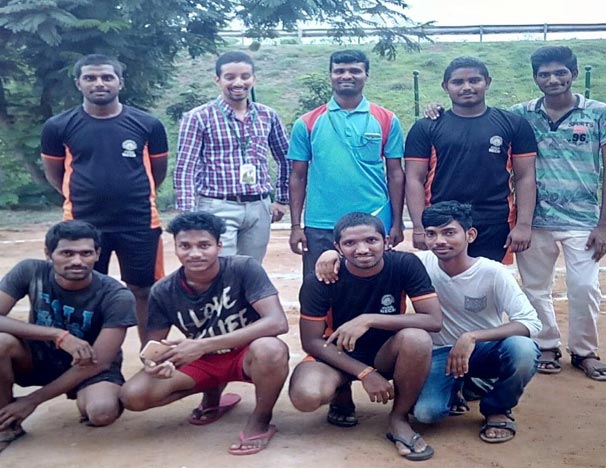 GUEST LECTURES
One day guest Lecture & Interaction session for II B.Tech Civil students by Dr. P.SUNDAR KUMAR, PROFESSOR in KL UNIVERSITY, on the topic "FLUID MECHANICS". on 24-8-2017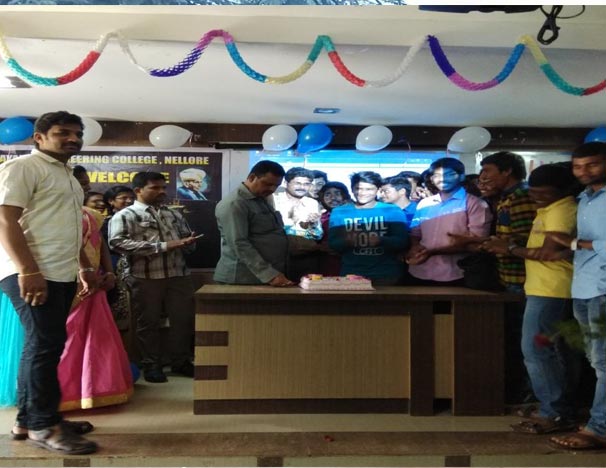 TEACHERS DAY
On the eve of "Teachers day" students of II,III and IV CIVIL gathered, invited the staff of the department presented them with gifts and snacks.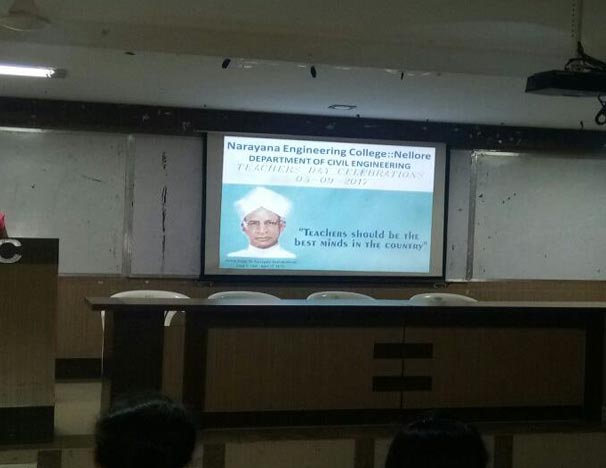 Students of CIVIL Organised "BEST FROM WASTE" and "ESSAY WRITING" for various department students on the eve of Engineers day on 15-9-2017.Prizes and Certificates were distributed to the winners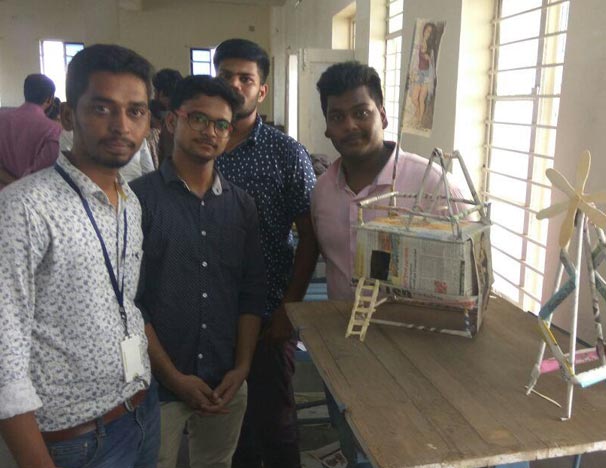 Engineer's Day Celebrations!!
1. Engineer's Day celebrations were organized by Civil Engineering Department of Narayana Engineering College, Nellore on 15-09-2017 on behalf of sri Mokshagundam Visveshwaraiah (Sir MV) birthday. , Mr.P.Veeranarayana Reddy, HOD, GPT Nellore, is honoured as chief guest for the occasion along with Dr.G.SREENIVASULU Reddy, principal, Narayana Engineering College, Nellore and other dignitaries, Heads of various Departments, faculty members and students. Chief Guest addressed the students on achievements of Sir MV and motivated the students with his inspirational speech. Principal also advised the students on the importance of civil engineers to the nation. Various competitions are also held to the students and certificates are distributed to the prize winners by the hands of Principal and Chief guest. All the students are participated actively in the event and made it a grand success.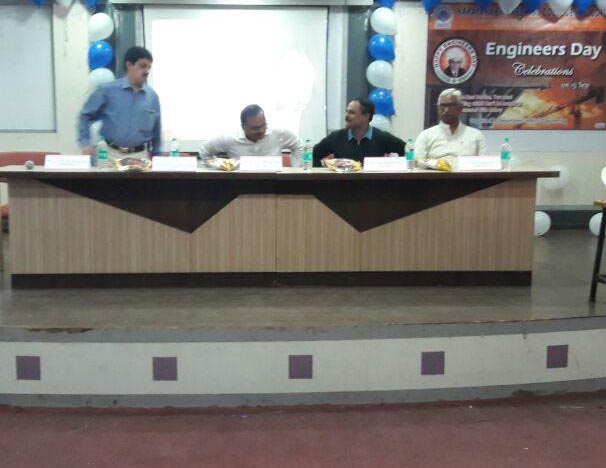 OZONE DAY CELEBRATIONS
On the eve of Ozone day , P.SEETA RAMAIAH delivered a speech on "depletion of ozone layer " on 16-9-2017 organized by department ofcivil engineerimg
WORLD NATURE DAY CELEBRATIONS
"World nature day" celebrations on 03-10-2017 organized by department of Civil Engineering